Digital Property Managemant System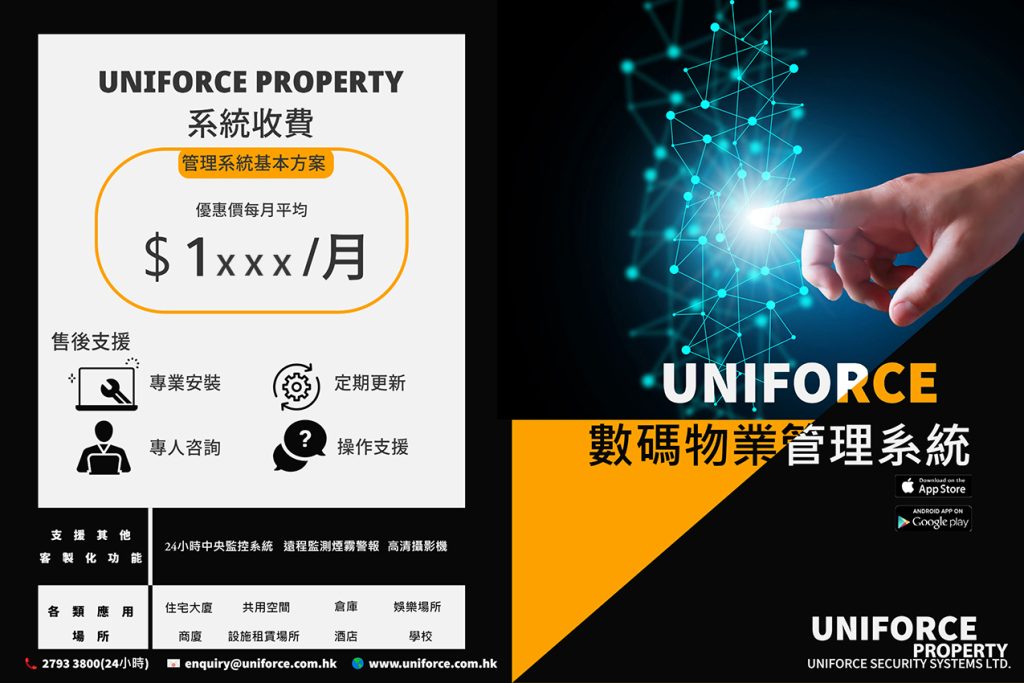 UNIFORCE PROPERTY
Save manpower and money for you and greatly improve the quality of management
Using the Uniforce Property mobile app to digitize property management helps condominiums and buildings improve the inconveniences brought by the traditional management model, effectively reducing labor costs and improving administrative efficiency.
Intelligent access control system
* Unlock using a digital keychain, provide multiple door opening methods.
(such as scanning a QR code, one-click unlocking with an app, or remote unlocking)
* Prevent strangers from entering and leaving, making the condominiums and buildings more secure.
* The system interface is clear and simple, making it easy to operate.
Electronic payment
* Pay management fees or other expenses anytime, anywhere.
* Provide various payment methods.
(VISA/MASTER / APPLE PAY / GOOGLE PAY / ALIPAY / WECHAT PAY)
* Check payment records in real time.
Visitor registration
* Residents can use the mobile app to register visitors in advance and obtain a limited-time QR code for them to pass through the access control system.
* Electronic registration replaces paper registration, making data access more convenient and quicker.
Instant notifications
* Property managers can issue announcements in the system.
* Residents can receive notifications immediately to get the latest information.
* This reduces the need for manpower to post announcements.
Maintenance report
* Residents can submit maintenance requests, such as for water pipes or electric lights, in real time.
* Check maintenance records to see detailed information.
* Property managers can get detailed maintenance information and arrange maintenance personnel in time.
Booking facilities and venues
* Book venues and check booking status at any time.
* Residents can register for condominium or building activities through the mobile App.
* Property managers can more effectively obtain data for analysis, which helps in the planning of future activities.
Documents:
Uniforce Property Additional Services